Money Hub Student CV Templates – Students can stand out in the crowd with our comprehensive CV template, guide and tips
You can save these CV templates to your device and make changes to include your own personal details. 
Writing Your CV
A CV should be short – two to three pages at most.
Write about your school and if you have done part-time or summer jobs, your work experience. Your secondary schooling helps to paint a picture of your abilities, especially if you have limited work experience. Include any outstanding achievements and also involvement in activities that reflect specific skills such as leadership. Limit details to years 11, 12 and 13.
CVs can be skill based or work based. Chances are yours will be more skill based if you do not have a work history. Careers New Zealand have some useful information on the differences between these, and some templates and examples to help you understand what type may be best for you.
Many CV templates include a Personal Statement. This tells a potential employer a little about you, but if you are including one, keep it tight and don't waffle on. State where you are at in your studies and what attracted you to the position. You can include a Personal Statement or not.
Make a list of your skills, and write down examples of how and when you used these skills. Teamwork is a skill, so is leadership. Think laterally about what you can do and like to do, and note what skills these things involve.
Check out what skills you may actually have and skills that employers are looking for with Careers New Zealand and look at their useful Skill Matcher tool.
Significant achievements are an important way to help paint a more complete picture of you as a potential employee. Think about your achievements from all areas of your life – school, sporting, within the community etc.
Decide who will be your referees. A referee could be an employer, teacher or coach (not a relative). They need to be able to give a verbal reference about your skills and character.
Writing Cover Letters
A cover letter is usually no more than a one-page letter or short email that accompanies your resume when you apply for a job. It tells the reader a bit about you and why you want to apply for the particular position.  Read more on Cover Letters Here
Employability Skills with tick boxes
Welcome to Universities New Zealand
These pages are to support students and whānau when thinking about studying at one of New Zealand's eight universities. They are a starting point to help you plan how to successfully move into university life.
The full text—plus an outline of the major subjects for Bachelor's degrees available at all the universities—can also be found in the latest edition of Thinking about university? A guide for New Zealand students, parents and whānau.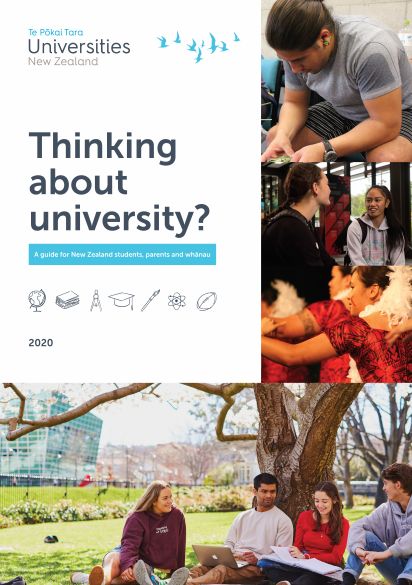 University Entrance 
Click University Entry Requirements to see the University Entrance criteria. These regulations apply to students completing NCEA Level 3/UE (Year 13), for entry to university. Please be aware that the information relating to individual universities may be changed from year to year, so it is essential that you check out the website of the university where you wish to study to ensure you meet the entry criteria for the course you wish to apply for.
For information and details on which standards contribute towards the UE Literacy requirement (including standards at Level 3), please click on the following link: UE Literacy Standards                                           (Please note new standards have been included)
Changes to the list of standards that contribute to University Entrance literacy requirements
Changes to the 2020 Approved Subjects List for University Entrance (UE)
My Mahi
A free, downloadable app to help you navigate your way through school and successfully out the other side!
MyMahi is a digital platform that has been developed specifically for students so that they can better discover, develop and manage their future pathways.
Understand themselves by discovering their talent & passion
Develop themselves learning, soft-skills, and personal well-being
Manage themselves by finding and following a future pathway
No Major Drama

No Major Drama is a NZ website that assists students with that all important question: "What should I study at University?"
No Major Drama allows students to explore different majors offered by different courses of study and degrees at NZ universities. This website will help you plan which degree and subject major best suits yours interests, skills and career aspirations. Click on the logo icon to find out more.
NCEA Study Resources, Advice and Inspiration. Ever feel stuck with your study?
Get unstuck, get the resources you need to succeed, and take control of your learning with StudyTime.              Ask a Tutor, Get Advice, Review Resources – Study is made simple.
Check out their website – https://studytime.co.nz
Wanting top apps and websites to help you crack your NCEA exams? Click here to find out more from JETmag!
Recommended School Subjects
Are you thinking about University?
When selecting your school subjects make sure you check out the Recommended School Subjects for various courses.
University Of Canterbury, University of Otago, University of Auckland, Victoria University, Massey, AUT, University of Waikato
Careers New Zealand is a government organisation that helps New Zealanders make informed learning and work decisions.
Click on the logo icon to see the Careers NZ's Website for Jobs Database, Courses, Tools and Resources.
Oompher motivates and inspires by sharing the work and life stories of young New Zealanders who have taken a brave step into the unknown – and have created, achieved or learned something extraordinary along their journey.
The powerful videos inspire Kiwi youth to open their minds to opportunities, act on their dreams and achieve their own extraordinary story.
Occupation Outlook
Occupation Outlook is a resource developed by the Ministry of Business, Innovation and Employment to assist students, parents and caregivers explore possible future career goals.
The Occupation Outlook reports have been designed to be one of the first places for young people to look when making a decision on career options and to determine what their chances are of getting a job once they have finished studying.
40 key occupations are identified in the report, together with a range of factors, including their size, popularity, and potential for future growth.
To explore this resource go to the following website:
www.dol.govt.nz/occupation-outlook 
School Leaver helps you make the best choices after high school.
Click on the logo icon to see School Leaver's Website for options to study, earn & learn, gap year, life hacks, and Money, Scholarships & Accommodation.
A digital prospectus of all courses, providers, and scholarships in New Zealand, with pricing and location info. Use our search tool to find the perfect course now!  Click on the logo icon to find out more.
Interview prep, advice & tools online today at jobted.co.nz! Reach Job Seekers. New Innovative Platform. Transform Your Business. Boost You Jobs. Types: FullTime, Part Time, Casual.
Click on the logo icon to find out more.
Welcome to the Toitū Kaupapa Māori Mātauranga – Māori Education Trust website and online scholarship application portal.  Click on the logo icon to find out more.
Our goal at School Connect is to make your decision easier, providing all the options and information in one place. You can kickstart your career… What are you waiting for?
Click on the logo icon to find out more.
Leaving School Magazine
A free guide to study and career options for high students Years 10-13.
Drive is a free website and learning tool created by the New Zealand Transport Agency and ACC. It's the first phase of an ongoing project designed to help young people become confident, capable drivers.
We're launching Drive Go – NZ's only official learn-to-drive app in July Click here for more information
CCRF Link – Click on the link to go to the student registration for accommodation references.
Election Year – Wondering who to vote for this year?